Glory Index
Chapter One

"New York Prohibition"
Pages 1 to 3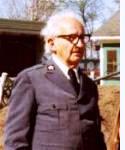 This first chapter of the Glory index describes Captain Ray Lewis's ministry in New York City during the Prohibition Era. Enjoy the "glory" that Captain Ray discovered and shared in his life's work.✞
Chapter Two

"Virginia Days"
Pages 4 to 5
Chapter two of Glory Index tells of Captain Lewis missions in Virginia in the United States of America. Captain Ray's ministry over fifty years covered many States and a number of other countries around the world. Enjoy Ray's story of his work and the charming times in the Hill Billy communities of West Virginia.✞
Chapter Three and Four

"Pittsburg Send Off and Kansas Ministry"
Pages 6 to 9

The stories of Captain Ray Lewis from Chapter three of the Glory Index and the Church Army's work with the Protestant Swedenborgian Church. Here Captain Ray is involved in a Church Army "send-off" and a colorful ministry in Kansas, Holy Ghost action, the Protestant Swedenborgian Church and Kansas church rags.✞
Chapter Five

"California Prison Trophy"
Pages 10 to 16

Captain Ray Lewis's work for Church Army in Lompoc, California and Lemon Grove. He also serves in prison work in California then in parishes in Lompoc, Las Vegas, and Los Angeles. In Vegas, he enjoyed a jackpot night, as well as ministry at St Columba's Camarillo and St Mary's Lompoc. Colton is an important topic with Colton Church Procession. The subject of the Holy Spirit is also reviewed.✞
Chapter Six

"Sioux Brothers"
Pages 17 to 18

Ray Lewis works on the Sioux Reservation in North Dakota He is honored with the name "Chief Running Horse" and talks with a woman who as a child spoke with Queen Victoria. It is also the story of Queen Victoria and the child and the work on Lower Bulle Fort Thompson reservation.✞
Chapter Seven

"South African Tension"
Pages 19 to 20

Captain Ray Lewis ministers despite racial tension in South Africa and later meets Prebendary Wilson Carlile in London, England. Eventually, he returns to Britain to meet the founder of the Church Army, Prebendary Wilson Carlile (1847-1942 AD) and to engage in mission work with English and Irish colleagues in Britain.✞
Chapter Eight

"English Colleagues"
Pages 21 to 23
Wilson was converted after reading a little pamphlet and later wrote, "I have seen the crucified and risen Lord as truly as if he had made himself visible to my bodily sight. That is for me the conclusive evidence of His existence. He touched my heart, and old desires and hopes left it. In their place came the new thought that I might serve him and his poor and suffering brethren."✞
"Glory Index"
by Ron Meacock © 2019