10.

House Worship Time
Life's Challenges

1. What are some of the good things that have happened and what are some of the challenges in your life?
2. Have you encountered people who are sick, lonely or distressed?" (Make them part of your prayer time later.)
3. "Were you in a position to reach out and help someone else this week?"
4. "Were you on the receiving end of support from others?"
5. "Are you seeing God at work in and through you and others this week?"
6. "Have you been puzzled by anything or wanted to question anything in your life?"
7. "Have you found any books, videos, music, television programs, web sites or other activities that helped you grow in your faith?"
House Prayer Times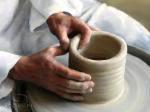 At the end of the Sharing Time, the small groups may pray for particular needs for those who are sick and make simple thanksgivings as appropriate. The Lord's Prayer and Grace can then be said together as a closing act. Christian worship, sharing and house prayer times take place every week in the house of faith group. Initially, house prayer times could be a simple personal prayer or a set prayer given by the Leader. Over time, as the group becomes more comfortable with the whole idea of praying aloud, different people could be invited to lead the house prayer time. The invitation to do so could be extended at a previous gathering and a volunteer recruited then. In this way, no one would feel threatened. It is also important that no one should feel they have to participate, even if everyone else has had a turn. The Holy Spirit will give them the nudge, the courage to pray aloud and this may be done according to God's schedule, not ours.✞
Time of Learning

From the very beginning, some time should be devoted to learning about the church as the Body of Christ. At each meeting, the house leader will break up those present into three small groups of three or four persons for the sharing time and move whatever chairs are necessary to sit close enough to hear one another's contributions. It is better if husbands and wives sit in different groups. In early meetings, the sharing will probably be the basics - where do you live and what do you do for a living, and what happened on the job this past week. Go around the group, each person may or may not contribute as they wish. Hopefully, as the group matures over the months, the sharing will become deeper and more open.✞
Spiritual Growth

House faith worship includes sharing of our thoughts, concerns, Bible study and prayer time together every week. Since the prime function of a House of Faith is to educate others in the meaning of evangelism, the House will probably contain some people who are unfamiliar with a traditional church service. They may feel embarrassed by unrehearsed prayer or even singing. Consequently, it may be necessary to introduce them gradually to some aspects of worship which the church normally takes for granted. The Leader of House Faith worship needs to be sensitive to this situation. The initial gathering for House Faith Worship should be simple and relatively free of traditional forms of worship. A possible format for House Faith Worship is suggested. This can be modified as the group matures and discovers the amazing grace of a personal Jesus.✞
House Prayer Book

How the House can use a house prayer book, their first Bible readings, and prayers together.✞
Background music while people are gathering with refreshments.

Music may be upbeat Christian songs or well-known hymns with piano or guitar accompaniment or CD (10 - 15 Minutes)

Opening Prayers together (Set prayers from the other options or the BAS) (2 minutes)
A Song from a Hymn Book or Praise Booklet or Overheads (with copyright) (5 minutes).
Psalm (said responsively) (3 minutes) (See Worship Alternative C- Psalm 95)
First Bible Reading (2 minutes)
Second Bible Reading (2 minutes)

Teaching from a Resource Book or online Bible

A modern form of Catechism may be used "I believe..."(5 minutes)
Leading into Discussion as a House. (10 minutes)

Meditation tape of Christian music or a CD (5 minutes)

Sharing Time. Go to 3 small groups of 3 - 4, in separate rooms if possible (10 minutes)
(Go around the group, each person may or may not contribute if they wish.

See also the Worship Alternative A - Sharing Time questions)
Sharing Faith with Others
1. Witness - How did I share my faith with others this last week?
2. Christian Action - Giving myself to others. How have I helped this last week?
3. My ministry - What do I do? Opportunities for ministry there?
4. Christian Growth - How have I grown? What books have I read? What Videos have I watched?
Communal Worship
Household of Faith prayers and music together form an essential part of communal worship. The other components are Bible reading and praise! In the early meetings of the new Household of Faith group, house faith prayers could be written prayers which could be said by all. This could gradually be expanded into simple litanies such as those in the Book of Alternative Services or from other denominational prayer or worship books. These would contain opportunities for individuals to offer thanksgivings and intercessions either aloud or quietly. It should also contain thoughtful responses that are read aloud by everyone. The bidding section of the prayers could initially be led by the Leader, but again, this role could be given to another group member as they feel more comfortable in participating. An example of this form is "A Bidding Intercession" in the Book of Alternative Service. Everyone may pray the responses. When the house starts to gel as a community, music can be introduced either as an accompaniment to singing or on a CD as background music. Perhaps simple praise choruses or contemporary songs such as from Taize, Gaither Music or Maranatha Praise music could be used. More traditional hymns could also be incorporated into the program. Other worship options may be appropriate depending on the wishes of the group and the denominational norm. House gospel study and Bible readings teach us basic biblical principles for the House of Faith. This House Gospel Study section should be focused on basic Biblical principles. Saint John's Gospel is considered by many to be the best starting point for house study because it emphasizes the personal Jesus and what he has done for us. The Gospel of Mark, on the other hand, is the shortest of the Gospels and a simple telling of the Jesus story. Luke's Gospel is regarded as one of the most accurate prepared from careful research by Doctor Luke and may even have been a legal brief used by the Honorable Theophilus in the defense of Saint Paul in Rome.✞
Study Time

A subsequent study could include one of the Epistles or Bible studies designed to teach us how to become part of the body of Christ. The nature of the House, their interests and needs should play a role in determining later House Gospel Study topics. See Resources.✞
"House Worship Time"
by Ron Meacock © 2019